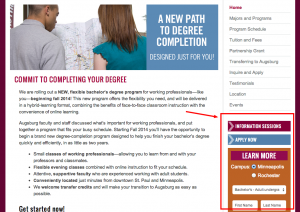 The area on the right side of your website that contains your website's menu and other content is called the Sidebar. The part of your sidebar below your website's menu is a Widget area. You can manage this area by going to the Widgets admin screen on your website. Here's how you get there:
Log into your site
In the admin menu on the left, go to Options
Under Options, click Widgets
At that point, you should be on this page:
The "Main Sidebar" is your sidebar widgets area. If you have no widgets on your website, then this area will be blank. But if you have one or more, you should see them all in the "Main Sidebar" box. Click on a widget item to edit its contents. Drag a new widget item on with your mouse to add it to the sidebar. Drag a widget item out of the "Main Sidebar" box to remove it. Click and drag widget items around to rearrange them.