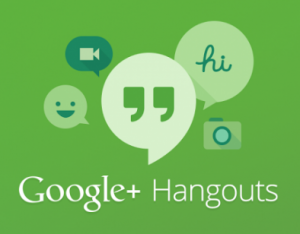 This semester, I'm trying something new: a Google Hangout every Wednesday afternoon at 3:00 p.m. You can join from anywhere–your office, home, abroad. We can speak face to face, and even share screens so that I can see what you can see (and vice versa).
You'll need to be logged into your Augsburg email account to access the hangout, and you will need to be on a computer with a microphone (at least) and a camera (preferred). There are also Hangout apps, so you may be able to join from a mobile device.
Join the Hangout or see the full schedule on my Meetings page.