Name: Lex Dorfman
Lex feels most connected to God when she is supporting others. It wasn't until she volunteered at her synagogue that she realized that Judaism provided her with the foundation of Tikkun Olam, how to be of service to others. She believes that the more we share and understand each other the more we can build bridges and bring holiness and peace into the world.
As a result of her Jewish Mexican-American upbringing, she has felt a strong sense of community. Her mother was born in Mexico and was raised in a tightly knit Jewish family. She has created a rich multicultural heritage for her children, grounded in values of cooperation, respect, and generosity. These values have inspired Lex to contribute to the wellbeing of various communities by celebrating our differences and learning from one another in diverse settings. She is grateful to have been selected as a 2018 Peace Scholar and is excited to continue building strong relationships and to pay it forward.
Name: Kristian Evans
Major: Political Science and Communication with a minor in Marketing
Program: Norway Peace Scholars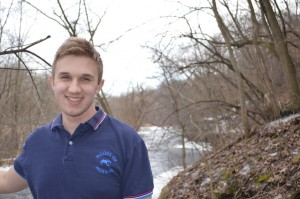 Profile:
Kristian was born and raised in North Minneapolis and is a third generation Auggie. After spending two years playing minor pro-hockey in Norway and around the western United States, as well as studying abroad in both Greece and Germany, Kristian realized the value of experiencing a wide variety of communities and cultures in problem solving.
At Augsburg, Kristian has developed a deep appreciation for the Cedar Riverside neighborhood and the role its diversity plays in the life of a student. For the past two years, he has volunteered for the Dinomights organization, a non-profit that works to educate inner city children from Minneapolis through the sport of hockey. He has interned in both the office of Minnesota's Governor and junior Senator advocating for economic fairness and sustainability. A cancer survivor, he has made healthcare a key focus as well. In his spare time, Kristian loves to watch the West Wing, hike around Glacier National Park, play hockey and work on his awful golf game.