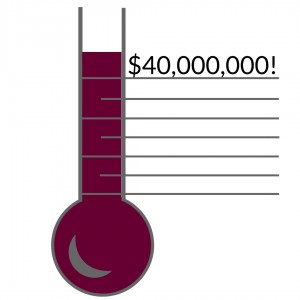 There is much to be grateful for and I want to share some good news with you today! Recently, Augsburg reached the significant milestone of $40 million in gifts and pledges toward Great Returns: Augsburg's Sesquicentennial Campaign. Generous commitments from alumni, parents, and friends have already created 51 new endowed scholarships and three endowed professorships.
The story behind each gift is inspiring to me. Recently, I read about Tom Peterson '69 who honors his father by contributing regularly to the Clifford A. Peterson Scholarship Endowment Fund so that students in the business program can receive financial aid to significantly offset their educational costs. Donors like Tom are the cornerstone of this campaign.
Peterson's  insight on the importance of growing Augsburg's endowment was recently featured as a gift announcement story:
"A small scholarship throws off enough to buy books. I would like to get to where I can make a material dent in someone's tuition," Tom Peterson says. Currently, a $1,000,000 endowment provides enough to cover one student's full scholarship (tuition plus room and board) each year.
I look forward to working with the growing number of campaign insiders like Tom Peterson who choose to invest in the future of Augsburg.
The Board of Regents and President Paul Pribbenow expect to focus on fundraising for endowment through Augsburg's sesquicentennial year (2019-20). Regular updates on campaign progress, including gift announcements, will be available on the Great Returns blog.
Warmly,
Paul S. Mueller, M.D. '84
Chair of Great Returns: Augsburg's Sesquicentennial Campaign